Hybrid Cloud


The best of two worlds

A full 87% of companies use a hybrid cloud and thus benefit from the advantages of the private and public cloud. The hybrid cloud solutions from luckycloud offer maximum flexibility and conserve resources. Add public cloud storage in our German data centers to your local NAS storage and use it, for example, for cost-effective backups, applications or collaborative work. This way, employees can securely access NAS data from different devices, regardless of location - for more cost efficiency, agility and security.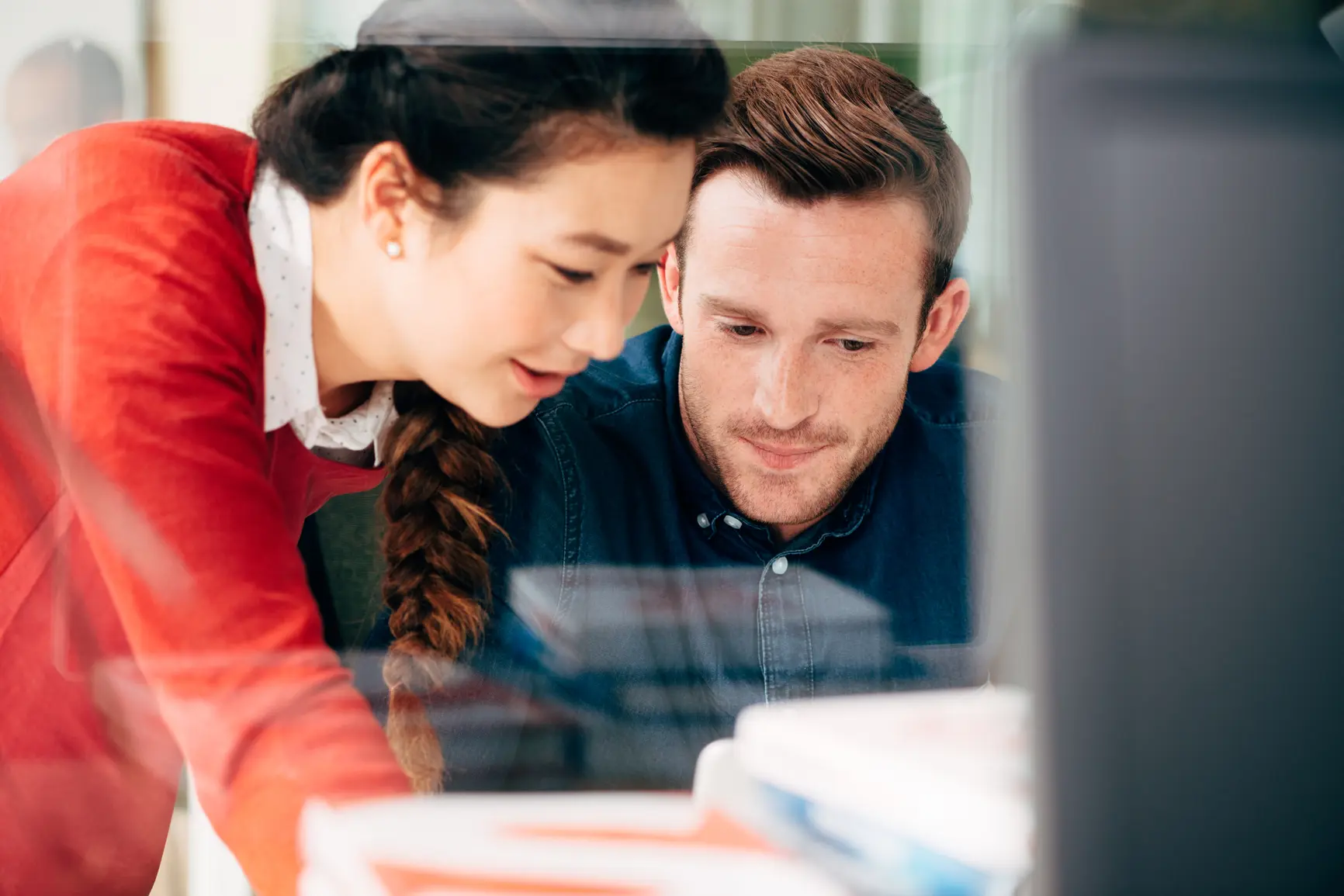 Advantages of the

Hybrid Cloud with luckycloud
Safe and reliable
When you synchronize your NAS data with the online storage and create backups, you reliably protect yourself against data loss. Our hybrid cloud solutions are characterized by their above-average security. True end-to-end encryption (zero knowledge principle - only you have access to the key) is a matter of course for us.
The servers of luckycloud are located in certified data centers on German soil and not abroad as with some other providers. Our data centers reliably protect against cyber attacks and failures. In addition, our cloud is based on open source software - so it is always possible to see how secure the code is. This allows it to be continuously optimized.
Simple and collaborative
A hybrid cloud like the one from luckycloud enables true work and share. This makes joint, time-sovereign and location-independent work on documents in the team a daily practice. Changes are traceable with version histories.
In the office, all employees are quickly and securely connected to the NAS server. Those who want to access the NAS data from home or on the road often need a VPN tunnel. However, with many users and large amounts of data, the VPN connection is quickly overloaded.
With our hybrid cloud solutions, you don`t need a VPN because you access the data directly in the secure public cloud. This means that you do not access the data of the NAS server via the Internet, but via the cloud with end-to-end encryption. This allows you to hermetically seal off the network and protect it from attacks. The cloud communicates only with the HTTPS protocol, which is already used for surfing the Internet. This means that no further opening of the firewall is necessary.
Flexible and scalable
The hybrid cloud is flexible and scalable. You can access the stored data via the cloud or the local network, regardless of time and location. Thanks to individual sync options, certain or all folders and data can be synchronized in real time on all end devices. Capacities such as storage space and services can be expanded and reduced again almost indefinitely at any time.
Efficient and affordable
With the hybrid cloud, you save time and money. Cost advantages are offered above all by object storage as a public cloud, such as the S3 protocols for secure disaster recovery backup. Intelligent data reduction and fast data transfer also save resources. The collaborative public cloud ensures efficient collaboration within the company. Long loading times due to slow VPN tunnels and remote desktop crashes are a thing of the past.
What is a

Hybrid Cloud?

A hybrid cloud is a solution that combines a private cloud (server on premises) and a public cloud (data center) - in other words, a hybrid of the two main cloud models.
Private Cloud
Store data locally on company-owned servers
Ensure high security
Have full control over the data and processes
Public Cloud
Store data externally in data center
Access it flexibly from any device and location
Save resources, performance and money
The Private Cloud is a local storage location in the company for internal access. As a rule, this is a compact device such as the NAS server in the office. Added to this in the hybrid cloud is the Public Cloud - an environment that provides computing power and storage online via an external data center.
Public Cloud does not mean,


that the data can be retrieved by any person.

The term "public" in this context does not mean that unauthorized persons can access the data. On the contrary: Cloud services are usually even more secure than physical devices, as the data centers are not susceptible to faults and are better protected against effects such as fire and moisture. Here, too, there are access rights and secure access procedures.
How works

a hybrid cloud?

In the hybrid cloud, two worlds flexibly come into contact with each other: The private cloud in a local data storage in the in-house network (mostly compact and modern NAS devices) and the public cloud on virtual servers in data centers. The latter is provided by a cloud provider.
Why you need the NAS server

should connect to a cloud.

If you store all your data only on the NAS device for a long time, you won`t have any access to the data in case of a failure. It also makes sharing data very complicated and insecure, since the home network would have to be "opened" for access, which is absolutely not recommended.
The public cloud can be a simple object storage for the integration of applications and backups of the NAS device or a classic collaborative cloud environment. In both cases, the storage capacity can be expanded at any time.
Using a software solution, the private and public clouds synchronize in real time. Depending on the product, this happens either permanently for collaborative work (work and share) or at regular intervals for backups and applications to save resources. In either case, the public cloud maps all or selected data on the NAS server one-to-one. At the same time, they are secured with end-to-end encryption. You have full control over the cloud environment and can manage both models centrally.
All-round carefree package:

Request NAS device now!

With us, you can easily order a NAS device from QNAP and Synology completely configured and set up. Our motto: Invest once and benefit for a long time. Because you only pay the purchase price, no expensive licenses. The server is fail-safe, robust and low-maintenance. You don't have to worry about anything thanks to the automatic updates. If you do need help, luckycloud is there to advise you.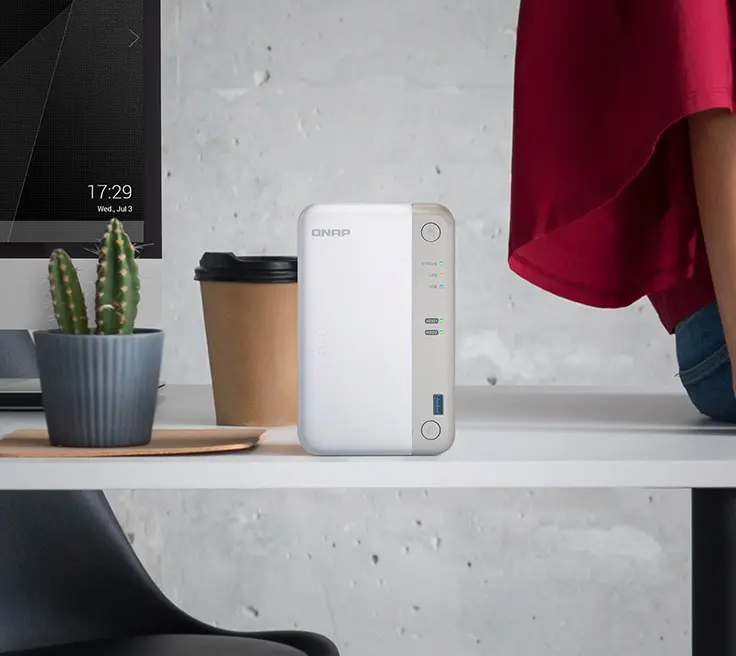 Our products for

Hybrid Cloud Strategies

The solutions from luckycloud map the various options for using a hybrid cloud efficiently:
1. NAS device + public cloud

for location-independent and collaborative work

In the first option, the private and public clouds exchange their data in real time using a smart delta sync algorithm. This means that the public cloud fully or partially maps locally stored folders and files. This means that employees can work from anywhere - even on the home network - via the public cloud by accessing the data on the NAS server, modifying documents online and sharing them internally or externally. Permissions for access and editing can be assigned individually and easily via an admin portal.

So it doesn`t matter from where changes are made - everyone has immediate access to the latest versions of the data.
NAS Sync

from luckycloud

Our matching product is NAS Sync - the file-based synchronization of the NAS storage with the public cloud. Data backups are transferred to the cloud in real time on the local NAS device and thus doubly secured. The delta sync algorithm of luckycloud intelligently splits the data into blocks. This means that only a fraction of the actual amount of data needs to be synchronized when changes are made. This is industry-wide, unmatched in speed, and additionally saves storage capacity in the cloud through intelligent deduplication at block level.
To NAS Sync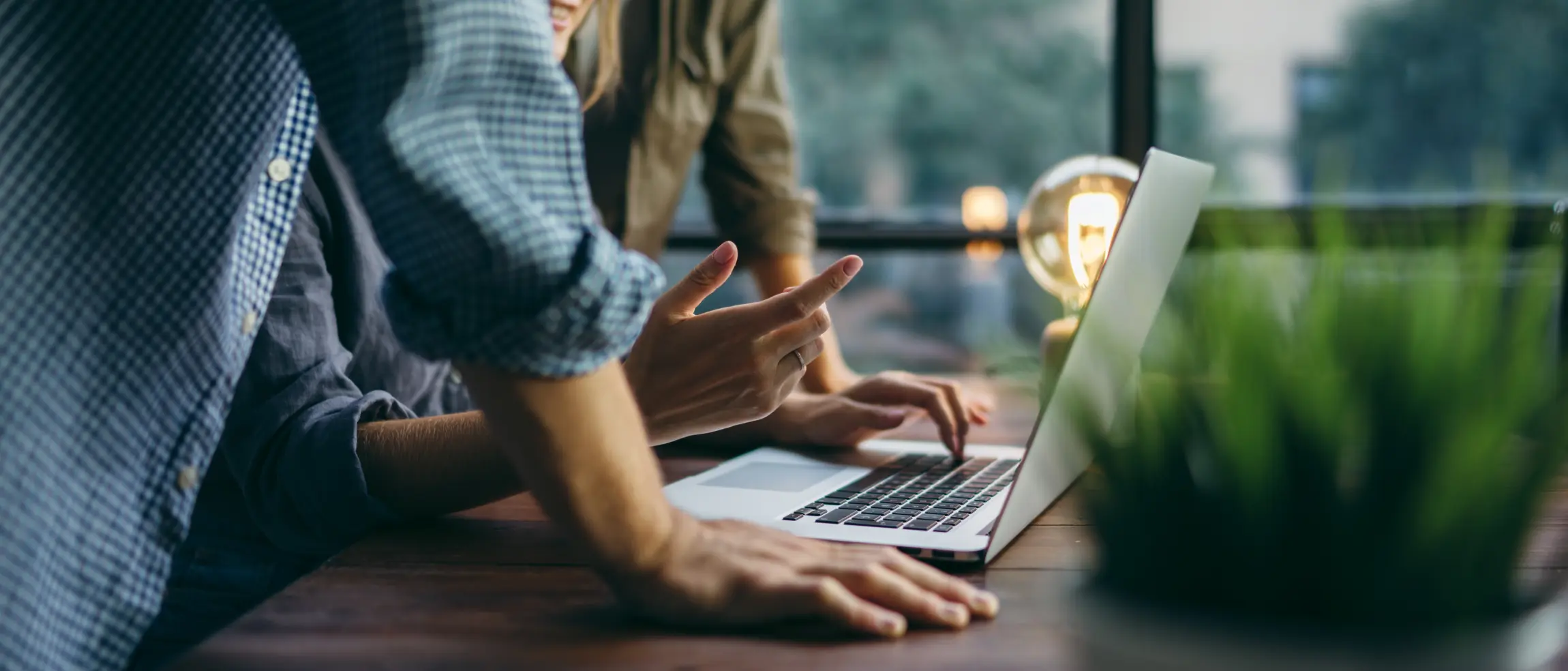 2. NAS device + public cloud

for cost-effective backups, applications and analyses

The second strategy uses a simple S3 object store as a public cloud for integrating applications, backups and big data analytics. This has a simpler structure than a classic public cloud and accordingly has no functions for editing and sharing documents. On the other hand, the scalable storage is extremely inexpensive, robustly built and efficient. It is therefore ideal for archiving large volumes of data, for example, which would be more expensive to store in the classic cloud. In addition, there is practically infinite storage space available in the cloud. Only you have access to the data - with the key to decrypt the secured data.
S3

from luckycloud

The object storage from luckycloud is easy to use, scalable and particularly inexpensive. It is compatible with the common S3 standard and many interfaces and can therefore be flexibly and easily integrated into existing networks. The solution offers, due to its simplicity, hardly any attack surface for disturbances. This is also ensured by our various data centers in Germany, where the data is distributed. For secure backups, we recommend the so-called 3-2-1 rule:
3 copies: locally on the end device + on the in-house NAS server + in the luckycloud
2 different media: NAS + luckycloud
1 complete backup on a secure external system - the luckycloud
To the S3 memory
Design and order or test your service now
Total costs / month
Total costs / month
Total costs / month
Total costs / month
Design your communication

now
Total costs / month
Design your communication

now
Total costs / month
Total costs / month
Recommended by experts:


The combination of hybrid cloud strategies.

A combination of the two strategies is also possible. This offers even more flexibility and cost advantages in the public cloud. The following scenario is possible, for example:
Move data you use frequently and need to access from anywhere to the public cloud, which enables collaborative work and data sharing.
Data that your team does not currently need is stored in the less expensive object storage. This is used for backups and applications, for example.
So you benefit from the best of both worlds and save valuable resources in the public cloud.
Combine S3 and NAS Sync

for even more efficiency

Our matching solutions S3 and NAS Sync therefore complement each other perfectly. If you use both, you can store data chronologically. Store folders with older projects in the S3 object storage and use NAS Sync for quick access to daily updated projects. Benefit from a backup solution as well as work and share, the joint work in connection with an uncomplicated sharing of files.
The effective operation
from NAS Sync and S3
Smart, collaborative, location-independent and flexible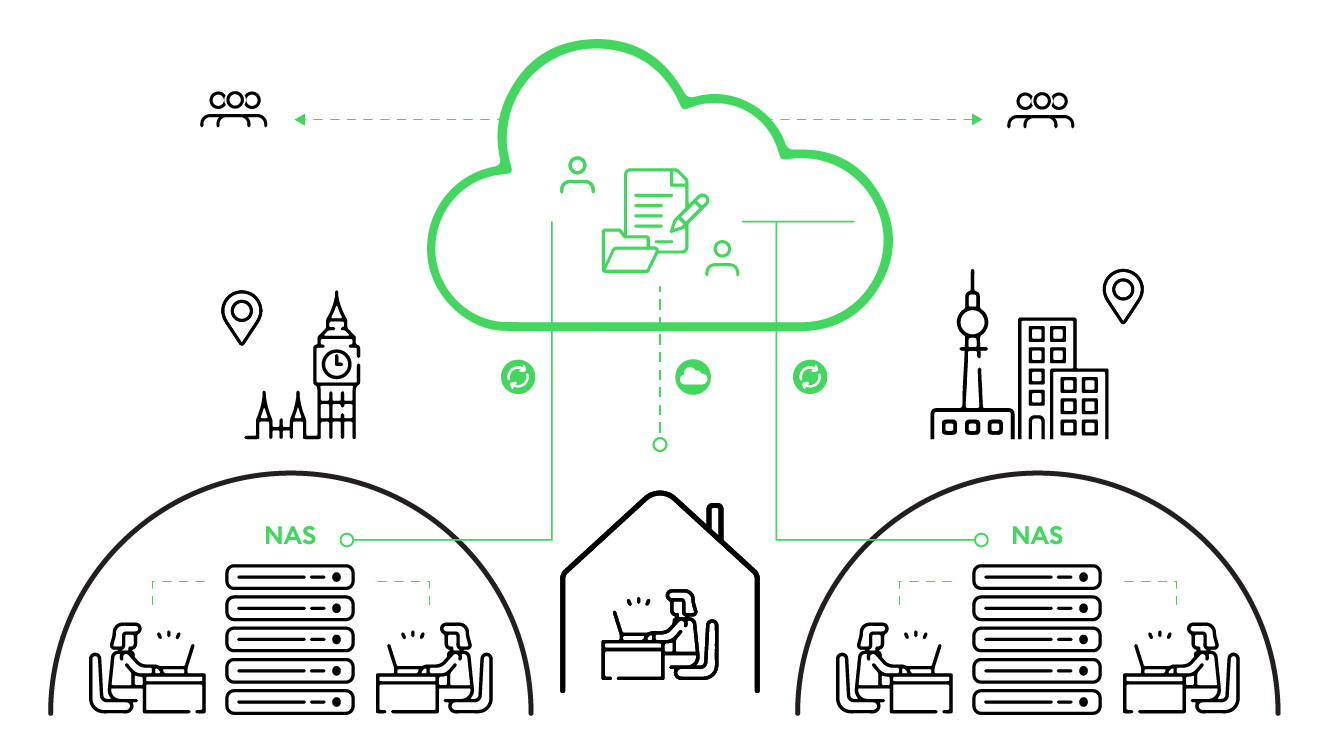 Data, Work and Share in the Cloud

Remote integration ( retrieved data is not stored on the device used )

( Remote Drive )

( Data synchronization )

( Share data with external persons or companies )
Inexpensive, robust, extremely compatible, fast and unlimited expandable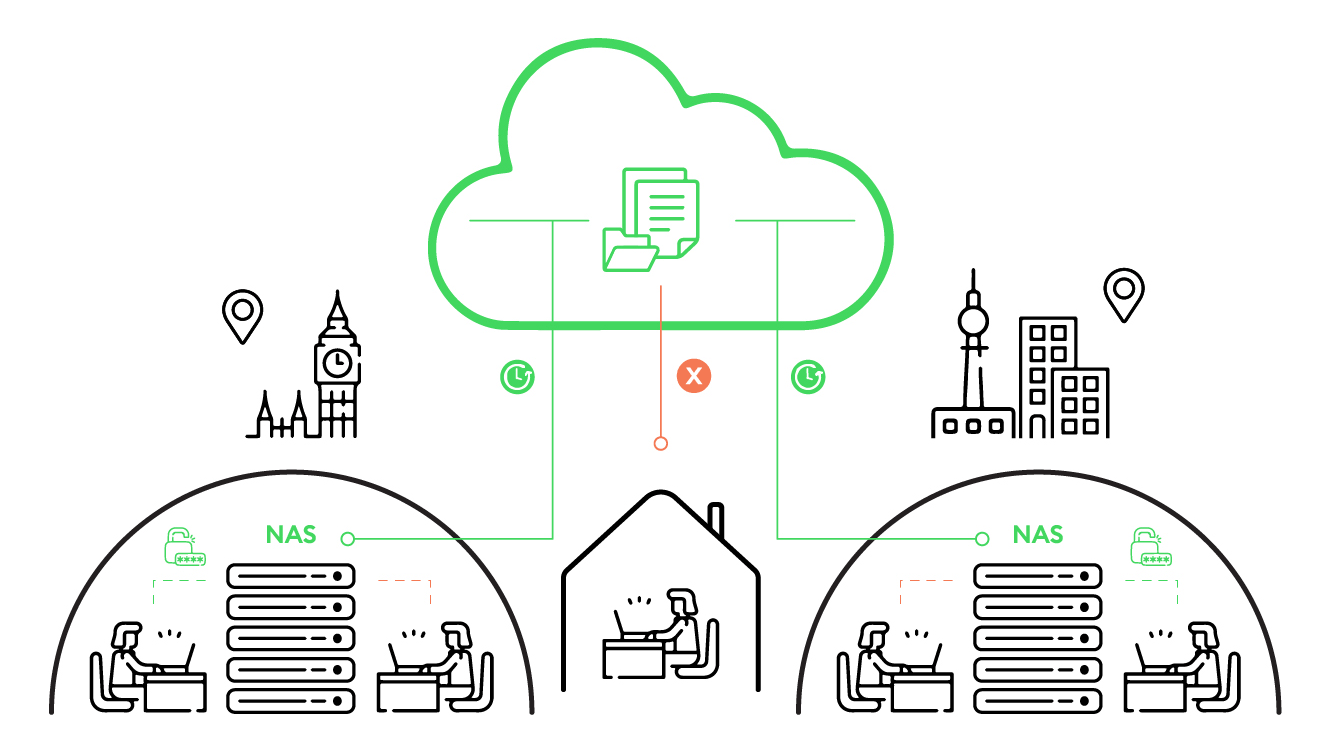 Data, applications, etc. in the cloud

(Remote integration with encryption password (retrieved data is not stored on the device used )

no access without encryption password

Synchronization of data with individual backup interval

No access from the home office
Typical use cases

and areas of application

The Hybrid Cloud infrastructure is suitable for companies from all Industries for different requirements and applications, for example:
Dynamic or frequently changing workloads
Hybrid technology with distributed cloud storage solutions is particularly common in environments with dynamic or frequently changing workloads.
The best example of this are architecture and planning offices that have to store designs and construction plans from old projects. This requires a lot of storage space and reduces performance capacity. Here, a mix of S3 and NAS Sync makes sense: for daily access to current For daily access to current projects, they use the NAS device as a private cloud, and for long-term storage of material to be archived, they use the public cloud on large external data storage devices.
Medical professionals also benefit from a combination of platforms. For example, after treatment has been completed, patient data is stored in the private cloud, where it is quickly available again for the next patient appointment. The public cloud is used for long-term storage of digital patient records for archiving purposes.
Our matching solutions S3 and NAS Sync therefore complement each other perfectly. If you use both, you can store data chronologically. Create folders with older projects
Temporary capacity requirements
It can also happen that in-house storage space becomes scarce at short notice (for example, for internal development projects). In such cases, the hybrid cloud provides a remedy. This is because it temporarily provides additional computing capacities such as computing and storage space in the public cloud. This is cheaper because companies do not have to invest in new equipment to expand their IT infrastructure.
Separation of critical workloads from less sensitive workloads
In addition, companies have the option of separating critical workloads from less sensitive ones. For example, they can store financial and HR data locally in the private cloud and use the public cloud for general applications.
Big Data Analytics
Companies usually do not process Big Data with a constant volume. Therefore, it is efficient if the public cloud provides capacities for analysis and the private cloud stores sensitive data. An artificial intelligence (AI) analyzes extremely large volumes of data on external cloud servers. It then makes the results available for use on the local NAS device.
Comprehensive guide


to the Hybrid Cloud
Tips from security professionals on hybrid cloud strategies
Facts about data security
Guide for the application
Download now for free
Frequently asked

Questions
How secure is a hybrid cloud infrastructure?
A hybrid cloud offers the most secure infrastructure. Data is stored redundantly and multiple times, so backups are always reliably available just in case. Basic security aspects such as end-to-end encryption and open source software are standard for all our products.
How is the hybrid cloud managed?
The migration from private to public cloud is easy to perform and can be done at any time. A cloud-based admin interface that runs in a web browser is used for this purpose. From there, you have access to all available virtual storage of both cloud platforms. You can assign access rights to folders and create synchronization plans for all end devices or between NAS and S3 storage.
What is a good hybrid cloud strategy ?
A good hybrid cloud strategy is characterized by good load balancing that saves resources and meets all requirements. Companies should use the private cloud storage for daily access. From there, work results are synchronized with the public cloud at regular intervals. In addition, the public cloud storage can be used for archiving purposes and data backups.
Can I test the hybrid cloud?
Those who first want to get a taste of the technology can initially use the private cloud and then, as their needs grow, move on to the public cloud. public cloud at a later stage. The opposite approach - supplementing the public cloud with an in-house private cloud - is of of course also possible. At luckycloud you can use all services for 14 days. test free of charge.
In which cases is a classic cloud solution sufficient?
If you only need a cloud-based solution to work on documents and share data with multiple work on documents and share data (work and share), then our cloud services luckycloud Teams or Business the appropriate solutions. Here, all participants access the same external cloud storage for their daily business. If you attach importance to your own branding, you should look at the product Enterprise take a closer look. For individuals, the online storage offers One an.
What does the future of hybrid cloud models look like in the enterprise?
Flexible hybrid cloud technology conserves resources and is therefore undoubtedly the future for medium-sized companies and corporations. Many organizations are already successfully using hybrid cloud structures.