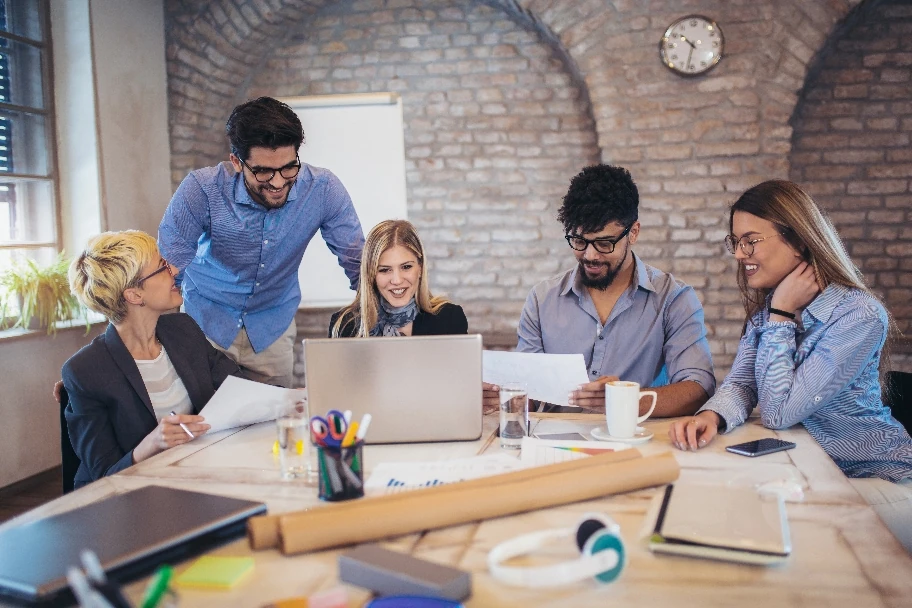 luckycloud pro data room- the secure business cloud storage from Germany for individual requirements
The secure cloud services from Germany are well suited for companies with high data protection requirements. Larger teams can be easily administered with simple user and file management
Are you looking for a German business cloud provider with fine-grained file management?
Then we have something in store for you: the luckycloud pro business solutions. luckycloud pro is the premium section of luckycloud and is suitable for every company and every institution with 20 or more users and high demands on security and availability.
During development, it was particularly important for us to make our cloud services not only secure, but also flexible and compatible. Because one thing is clear: every company has its own requirements or ideas about the ideal data backup. Business Solutions can therefore be flexibly scaled and adapted to any company size and industry - whether educational institution, architectural office, medical practice, international industrial company, software company or law firm. After all, they all have one thing in common: they all process data that they want to access from anywhere and archive securely.
What does that mean for you? Starting with a highly secure, encrypted public cloud through your own NAS server to a hybrid cloud or private cloud solution - you can have your data backup compiled and configured from the respective product variants for your specific application.
luckycloud pro not only includes all known functions of our luckycloud cloud storage, but is also packed with additional functions, offers even more security and, above all, individual configuration options.
Those are our Managed Cloud Services:
luckycloud Storage with Team Manager:
forms the basis for all further product variants - with a high security level right from the start.
luckycloud Box:
is a hybrid cloud solution that allows you to synchronize your cloud data centrally on your own NAS server with our new lcBox App and thus provides a highly available backup solution.
luckycloud pro Business:
is a public cloud solution ideal for larger teams of 20 to 1000 users (and more). In your own virtual data room, file management in different areas can be easily designed and individual activities can be logged using file access reports.
luckycloud pro Private Data Room:
is a private cloud solution that you can customize and configure. Among other things, you can maintain your own corporate identity or set up special cloud configurations. You can run this solution on our highly available server infrastructure or in your own data center on-premises.
luckycloud pro Data Room Management:
With this service, you can act as a cloud provider yourself and provide your customers or clients with your own virtual data rooms.
luckycloud pro Support and Service:
You don't have to be a professional to run a highly secure cloud backup solution in your business. Depending on how much support you need, we can offer you the following services:
individual support tickets,
personal luckycloud contact person for professional support and on-site installation
separate SLA-contracts
24/7- Support via Phone and Remote.
The cloud solutions can be used as usual on the PC:
Data synchronization via Sync Client
Data access via virtual hard disk or drive client
Data recovery in the web interface
Data transfer and free file upload via download and upload links
Edit documents in the Online Office Editor or in local Office solutions, such as MS Office
3-fold encryption: transport -, end-to-end or client-side and server-side encryption
Encrypted user shares
But what is the difference between luckycloud pro Data Room and luckycloud Storage?
Everything remains the same for users and team members.
| Feature | Team Manager | Data Room | Private Data Room |
| --- | --- | --- | --- |
| Security Level | High | very high | maximum |
| End to End Encryption | X | X | X |
| ISO-certified data center | X | X | X |
| Secure sharing links | X | X | X |
| Web Interface via Browser | X | X | X |
| Local Synchronization: Sync Client | X | X | X |
| Integration as network drive: Drive Client | X | X | X |
| Integration as network drive via Webdav | X | X | X |
| 2-factor authentication | X | X | X |
| Block versioning (snapshots) | X | X | X |
| User creation | X | X | X |
| Rights of Use & User Roles | X | X | X |
| Online Office Editor | X | X | X |
| Chat function | X | X | X |
Difference between luckycloud Storage and luckycloud pro Data Room
For the administrator, special file and user management features are unlocked, making it easier to administer larger teams. The administrator has an admin panel and reporting tool at his disposal for this purpose, with which user roles and data accesses can be managed in different data rooms in a simple and structured way. It is also possible to appoint several administrators and store individual default settings.
| Feature | Team Manager | Organisation | Private Organisation |
| --- | --- | --- | --- |
| Restful API | | X | X |
| Own cloud administrator | | X | X |
| Self-contained organizations | | X | X |
| File Acess Logs | | X | X |
| Ideal for very large numbers of users | | X | X |
| Own cloud instance | | | X |
| UI with individual branding | | | X |
| LDAP/AD integration | | | X |
Of course luckycloud pro remains true to our Zero Knowledge Cloud principles based on open source software.
If you are unsure whether luckycloud pro is suitable for your application, please feel free to contact us. Our cloud experts will be happy to advise you free of charge and without obligation. We will find the ideal cloud solution for your business.
You can make an appointment here .
You might also

be interested in